Chopped! Contestant! Roundup!
Chopped! Contestant! Roundup!
Oolong Tea! Jalapeño! Fresh Prune Plums! Radish! 
Today, I'm featuring our 2014 Chopped! VeganMoFo Edition contestants! You all seriously rocked this collection of intriguing, hand-picked ingredients and showed us flavor combinations we never thought possible.  Thanks for all the hard work and showing your kitchen skills! Your panel of esteemed vegan culinary obsessed judges, J. Legume, Dan Reed, and Chelsea Hoshi, along the spirit of VeganMoFo, are heatedly discussing the results and their consequent new cravings, so stay tuned for who's being declared our new Chopped! Champion! and prize delivery info from our sweet friends at Chicago Vegan Foods later this week! –
–
You can read more about the ingredients and rules at: Ready, Set…Chopped! VeganMoFo 2014 Edition!!! The official entries are below, in random order. Click on the links to read descriptions and cooking methods behind the dishes. Enjoy! –
=
Oolong Marinated Tofu with Plum Chutney and Pickled Apples and Radishes, @marylangmt on Instagram
Mary's recipe + instructions are right here.
–
Dumpling Soup with Radish & Radish Leaves, served with Jalapeño, Plum Chutney and Spiced Lentil-filled Dumpling, Eating with the Rabbits
It's true, this contestant had some tweaks, just like on the show itself, but I still enjoy the presentation and these quotes a bunch: "Isn't VeganMoFo the best? " "So, yeah, this was far from perfect. BUT! The actual soup tasted pretty good, considering, and I never would've come up with this combination on my own. All in all, I'm happy with the result."
–
Sweet Heat Sushi, Veganista Mama
Assam Tofu, with braised radishes topped with Jalapeno, Assam, Plum sauce, Hasta La Vegan
Plum & Radish Tart with a savory Jalapeno, Oolong Tea, and Apricot Preserve Glaze, Bedazzled Vegan
Bedazzled has my favorite quote so far: "Voila! The finished product was edible!" Score!
–
Channa Masala with Plums, Radish Salad and Oolong Rice, Vegan Needs Sauce
  A Very Special Marinara Sauce, Monsieur Avocado (The blog's in French, so GO GO Google Translate if needed)
Plum and Jalapeño Glazed Tempeh with Picked Radishes and Butternut Squash Purée (plenty of oolong in there too, I just couldn't fit it into the tile), The Picky Vegan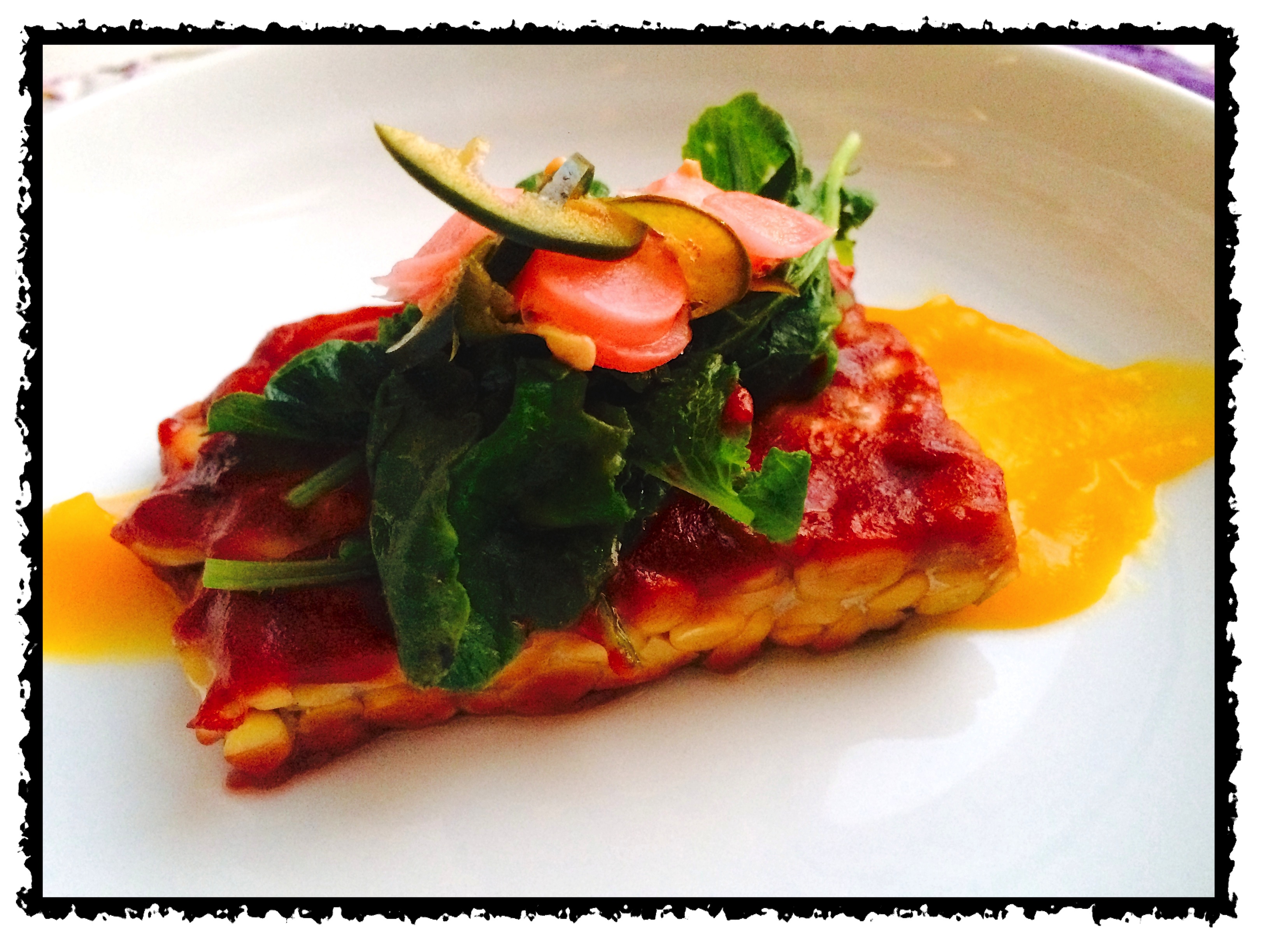 Oolong Banh Mi Burger, Zsu's Vegan Pantry 
Mexican Hot Lips Cake, The Mess in Messenger
Radish cakes with Prune Sauce, Kohlrabi and Quince
Barley Paella with Grilled Tofu & Fresh Plum Salsa, Cadry's Kitchen
Stuffed Sweet Dumpling Squash in an Oolong-Plum-Red Wine Reduction with Jalapeno-Apple Radish, Rubber Cowgirl
Sweet Heat Tacos, Veganista Mama (Another creative submission from Veganista Mama!)
Thanks to everyone who joined us for this eye-opening and tastebud-pushing competition! I hope they've gotten folks thinking differently about all of these lovely flavors and foods.
–
Stay tuned for the big reveal, our Judge's Choice of Chopped! Champion!, and let us know what's piqued your interest!