Thursday Rounduppin'
Thursday Rounduppin'
Hello, hello, you lovely VeganMoFo-ers!!! Jess popping in with an assortment of RandoMoFo.com picks and some bonus Instagram selections from my regular hashtag-clicking-sprees. You know how it goes. I started today's roundup early this morning while "working from home", aka seriously enjoying the double Rosies on The View and eating a plum muffin for breakfast. Pleasant stuff.
First up, via Instagram #VeganMoFo wandering, we have Shannon the @anotherhungryvegan hitting up Watercourse Foods in Denver for Buffalo & Memphis BBQ Cauliflower Wings. I want in on this and continue to be content with this saucy, battered cauliflower craze!
Another Instagrammer, Cassie @veganinsanity, serves up a hearty bowl of Smokey Barbeque Chili I can practically smell from here! Yum.
Well, it's rainy in Portland once again (ba da bum, the season has be-gun) and these Sunshine Pancakes from Green Gourmet Giraffe are helping put a smile on my face and mood. So charming.
Speaking of Portland, this happened around the corner from my apartment and my cats are feeling left out, because dang, yum. Joni's Seitan Burgers up on Panda with Cookie. They're George approved. That's really all you need to know.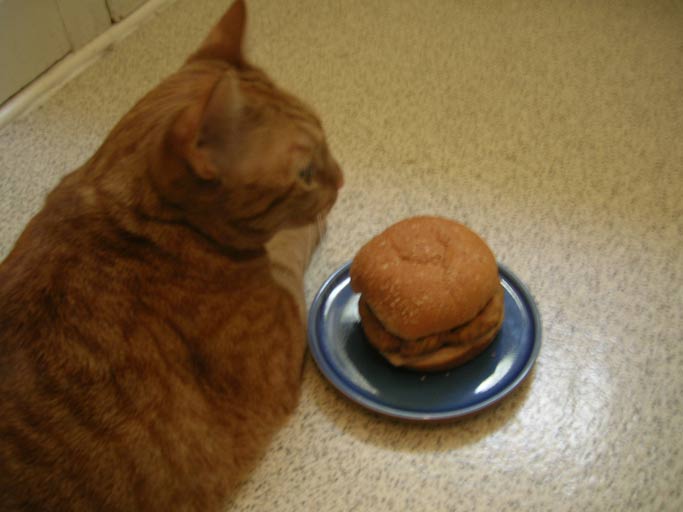 What did you do today? Because Beetroot Massacre went for a 3 hour hike and then threw together this satisfying Tempeh Stir Fry with Black Bean Sauce:
I love beer-y, cheesy happenings and now want to try out this Velvet Beer Sauce from Down the Rabbit Hole. It's time to get my hands on some lactic acid, ASAP.
Back to Instagram hopping, because it's just so easy to get lost in, we have Stephanie @neatnnutritous with a seriously appetizing dish of Smoky Peppers, Creamy Cashews & Crisp Squash:
Our last featured MoFo-er for today is Babette, who's baked up some bomb looking Very Vanilla Raisin bread over at Vegan in Montreal. What a perfect breakfast!
Keep it up, folks!!