tuesday good news day
tuesday good news day
wow! we are really rounding the last corner of VeganMoFo III here! Tuesday will have been the 5th to last day of the month! How are your mofos coming along? If you need a little inspiration, here are some of the coolest posts from mofotown in the last few days…
Mihl, over on Seitan is My Motor, gives us the science behind Speculoos (a.k.a. those quintessential holiday spice cookies so popular in Europe). And then, she kicks it up a notch by using the same spice mixture to make, wait for it, wait for it, SPECULOOS WAFFLES!!
Holy pink alcohol, Batman! Go check out these Pink Russian cocktails over on Scrumpdilly blog:
Life on the Vegan Highway is Good is the name of the blog, and mock tuna is the name of the game – go check it out!
This cake from Mama VeeGee's Vegan Kitsch-n is kind of absurdly fabulous:
Yes, those are peanut butter cookies you see all up in there.
Woah woah woah. Go here to the Mama kocht vegan blog and enter to win one of these serious-looking chocolate bars!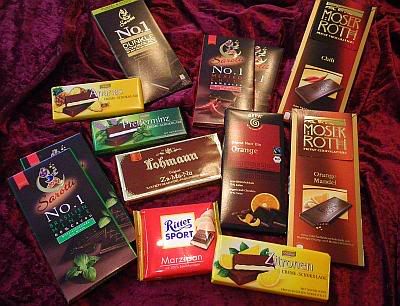 Finally, the always lovely Elizavegan blog gives us this recipe for Welsh rabbit/rarebit, with nary a rabbit harmed in the process, natch. Perfect cold-weather stick-to-your-ribs comfort food here!
-bazu